Citizenship Act protests LIVE:
Internet shutdown in Delhi today:
D Raja, Yechury, Umar Khalid, 
Yogandra Yadav  detained 
in Delhi's Mandi House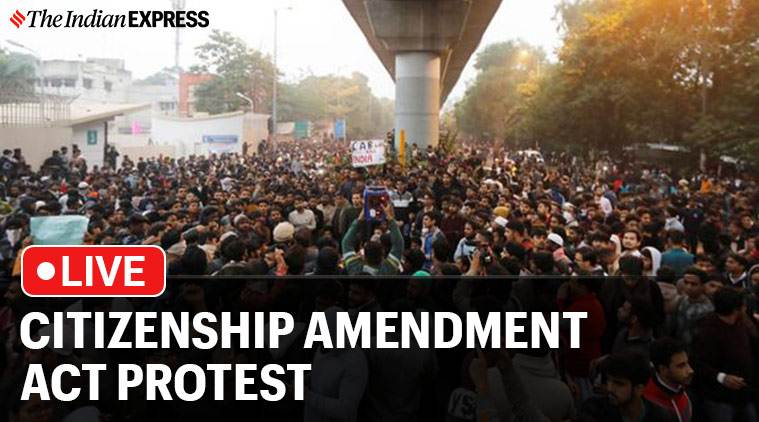 Citizenship Amendment Act (CAA) protest Today Live News Updates: Protests erupted in several states Thursday against the Citizenship Amendment Act despite prohibitory orders imposed by the police.
By: Express Web Desk | Bengaluru, Chennai, Hyderabad, Mumbai, New Delhi |
Updated: December 19, 2019 12:58:08 pm
Citizenship (Amendment) Act (CAA) Protest Today Live News Updates: Protests erupted in several states Thursday against the Citizenship Amendment Act despite prohibitory orders imposed by the police. In Bengaluru, historian Ramachandra Guha was taken into custody along with at least 100 others during a protest at Townhall. In Delhi, Yogendra Yadav was detained from Red Fort, where another protest was being staged.
Over 40 students of the University of Hyderabad were taken into preventive custody by the Telangana Police this morning while on their way to join protests against the new citizenship act in the city. In other news, 17 students from Madras University were detained last night and released near midnight for protesting the new Act.
In Uttar Pradesh, Samajwadi Party workers are staging a protest outside the Vidhan Sabha.
Citizenship (Amendment) Act (CAA) protest today live news updates: Ramachandra Guha detained in Bengaluru; Yogendra Yadav in Delhi. Read latest news and updates in Malayalam, Tamil
Protest marches have also been planned in Bhubaneswar, Hyderabad, Bengaluru, Chennai, Kolkata, Bhopal, Lucknow, Pune, and Nagpur.
In Maharashtra, the Congress, NCP and various other parties have formed a front to protest against the CAA and the National Register of Citizens (NRC) at Mumbai's August Kranti Maidan. Besides the Maharashtra units of Congress and NCP,  those part of the front include Samajwadi Party, CPI, CPM, JD(S), Peasants and Workers Party of India, and Muslim League among others.
A statement issued by the front said that the parties are coming together under a the name 'Bharat Ke Log'. It said that the CAA and the NRC are "unconstitutional" and "discriminatory". "The Constitution, drafted by Dr B R Ambedkar, is being violated and is under attack. This is the reason that the entire country has chosen this day to condemn the unconstitutional and divisive laws of the BJP government," the release read.
The release issued by the front also added that they chose December 19 for the protest because it was this same day in 1972 when freedom fighters Ram Prasad Bismil, Ashfaqullah Khan, and Roshan Singh were put to death by hanging.
Around 2,000 security personnel, including those from the Mumbai Police and paramilitary forces, will be deployed around the grounds, said a police official.
Meanwhile, following protests in Delhi, which eventually flared up into law and order problems, senior police officers in Mumbai Police have been in talks with several organisers of the protests to ensure the city does not face a similar situation.
Joint Commissioner of Police (Law & Order) Vinoy Kumar Choubey said, "Adequate police presence will ensure that the protests pass off without any problem. We are in touch with the organisers of the protest and both sides are on the same page. We are confident that the event will pass off peacefully."
Another officer said around 2,000 security personnel will be deployed from the city police, traffic police and State Reserve Police Force. "Also, drones will be deployed to check if anyone tries to cause any damage. A team will be scanning through the footage and as soon as anything suspicious is found, the officers on ground would be informed about the same," the officer added.
"Since Thursday's protest at August Kranti Maidan is all over social media, we do not have an estimate of how many people will be attending the rally. However, personnel would be on standby in case more people than expected land up," the officer said.Indian Express
Ramachandra Guha, Yogendra Yadav among those detained while protesting against Citizenship Act
Scores of protestors were detained by the Delhi Police near Red Fort when they tried to take out a march in defiance of the prohibitory orders imposed there to protest the Citizenship (Amendment) Act.
By: Express Web Desk | New Delhi | 
Updated: December 19, 2019 12:50:40 pm
Noted historian Ramchandra Guha and Swaraj India leader Yogendra Yadav were among several people who were detained while protesting against the Citizenship Act and National Registers of Citizens (NRC) on Thursday. While Guha was detained at Townhall in Bengaluru, Yadav was taken into custody from Red Fort in Delhi.
The Swaraj India leader took to Twitter to confirm his detention. "I have just been detained from Lal Qila. About a thousand protesters already detained. Thousands on the way. Am told we are being taken to Bawana," Yogendra Yadav tweeted.
"It is an honour to be detained on 19th of December, a small tribute to Ashfakulla Khan and Ramprasad Bismil. Happy to be in the company of Dr Dharamvir Gandhi, ex-MP, Patiala," he said in another tweet.Indian Express
CAA Protests Live: Protesters Detained Across Country, Mobile Services Suspended in Delhi
https://thewire.in/rights/citizenship-amendment-protests-live
New Delhi: Protests have been planned against the controversial Citizenship (Amendment) Act across the country on Thursday. In a bid to foil the protests, reports say that prohibitory orders have been issued in several places, while Karnataka and Uttar Pradesh have imposed Section 144 across the state.In Delhi, permission for a protest march has been denied, while Section 144 has been put in place around the Red Fort area, where a protest by AISA and Swaraj Abhiyan has been planned. Despite the restrictions, the organisers have announced their intention to continue with the protest. The Wire
Email This
BlogThis!
Share to Twitter
Share to Facebook